Security Risk & Infrastructure Vulnerability Assessment and Audit
Security risk assessment and audit & infrastructure vulnerability assessment services of iSystems examine the overall business and security controls that involve IT systems. Make improvements by contacting us today.
Corporate security risk assessment and audit and infrastructure vulnerability assessment
Since the last decade or so, information technology has been playing a progressively important role in several modern-day businesses. The systems, processes, and procedures that form a company infrastructure, from large multinationals to small startups, all of this depends on the quality of the technology that helps with the operations.
As the speed with which the technology is progressing and evolving, it is not going to slow down any time soon. Thus, it becomes all the more important that the IT infrastructure in every company could handle the everyday progressions in the technology. Bad quality business systems can not only affect their operations, but it can also hurt your staff's self-confidence and hurt the reputation of a business. That is where security risk assessment and audit and infrastructure vulnerability assessment services come in.
While bigger companies may have additional internal methods in place to observe the condition of their systems, many small or medium-sized businesses cannot do so. Without a committed team working on IT solutions inside a company, temporary solutions cannot work for a long haul and might also prove to be costly.
Advantages of an IT assessment and audit
1. Checks Vulnerability to Threat
Today in the business world, storing the data in electronic form has become essential. Furthermore, the cloud is being used for storage solutions. A company's financial data along with the other sensitive data of its customers and employees become susceptible through its IT systems. There will always be threats related with the way a company handles its data. However, with a security risk assessment and audit, companies will be able to operate at a very low level of risk. Along with that infrastructure vulnerability assessment, the area of high risk can be identified and due to that, companies can develop a plan to resolve the threatening issues.
2. System evaluation and reliability
3. Data security
With infrastructure vulnerability assessment, a system can be secured against any kind of vulnerabilities and maintain the privacy, accessibility, and integrity of the data. This means that confidential information stay protected from leaks and data are safeguarded from alterations by illicit parties.
4. Strengthens Control
An IT audit would not only evaluate risks and threats but also recognize and assess controls. Thus, ineffectual or incompetent controls can be reorganized and strengthened. By using diverse structures for assessments, IT auditors will be able to attain assurance when it comes to the efficacy and competence of the business's operations, correctness, and validity of financial releases, and obedience to appropriate rules and policies.
iSystems Consultants observe and review not only physical security controls but also complete business and financial controls that comprise information technology systems. It offers IT audit and IT security risk assessment for its clients to ensure their data's protection and integrity remain intact.
Powered by
SEO
- You Find Limited
Discover Risk & Define appropriate mitigation strategies that fit your organization
Security Risk Assessment & Audit is to review and evaluate an organization's IT environment control and compliance on related technology, configurations policies, processes and procedures. It determines whether IT controls protect corporate assets, ensure data integrity and are aligned with the business's overall goals. iSystems Consultants examine not only physical security controls, but also overall business and financial controls that involve information technology systems. Services include: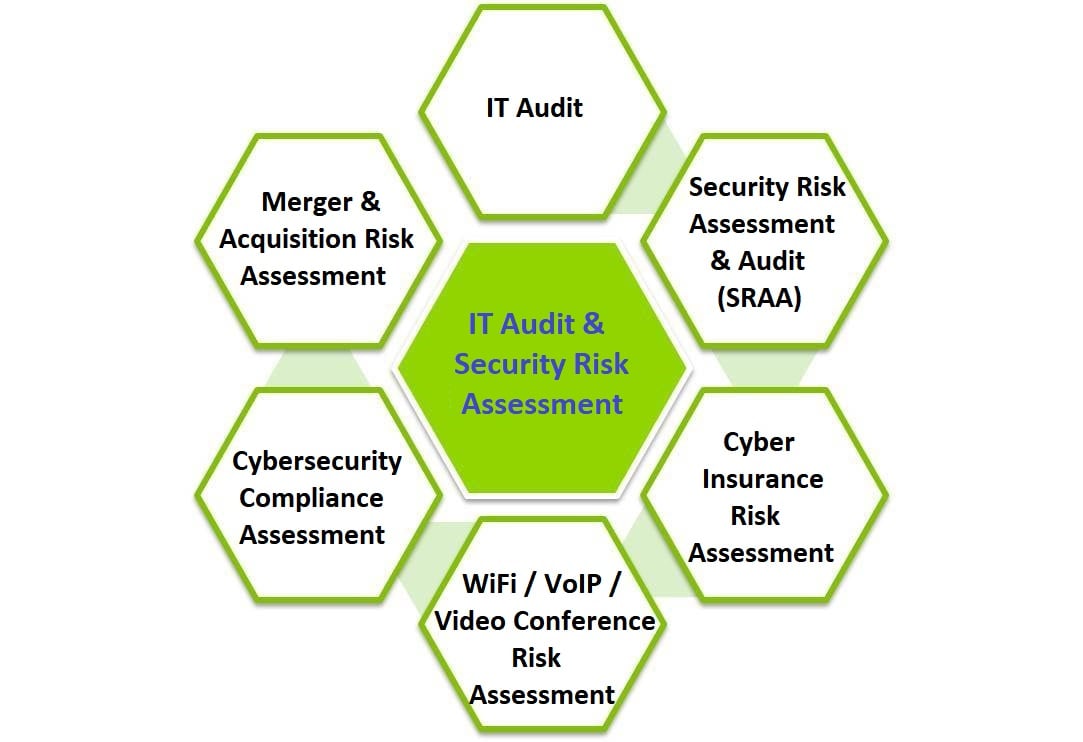 IT Audit

IT Security Risk Assessment

Security Risk Assessment & Audit (SRAA) based on industry practices of ISO27001, HKSAR Government S17, G3, G51, etc

Cyber Insurance Risk Assessment

WiFi/VoIP/Video Conference Risk Assessment

Cybersecurity Compliance Assessment

Merger & Acquisition Risk Assessment

Cloud Security Assessment

IT Security Policy & Procedures Revision

Compliance Audit Review based on HK Monetary Authority, Cyber-Resilience Assessment Framework, SFC Code of Conduct review etc.
Case Study - Network Audit
Network audit was performed for an established financial institution.
Main activities include:
Network discovery and assessment of network architecture and topology,
Network security assessment,
Vulnerabilities and risk identification,
Recommendations to management.
Network security review approach is based on ISO 27001. The network nodes consist of Extreme Black Diamond 10808, Summit X450 / X250 / 400 / 200; Juniper SSG550, ISG2000, IDP250, Juniper SSL VPN gateway SA2000
Key benefits to customers are:
Early identification of infrastructure weaknesses and prompt improvements
Maintenance of good company image
Use of industry best practices on IT infrastructure and security approach